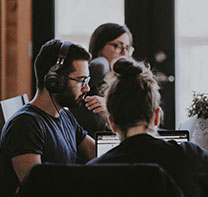 "It's not what you know. It's your deep connections to the right people and businesses that truly matters" Anthony Tuite
Anthony is the ultimate "connector" and communicator He believes success for your business comes from nurturing powerful connections and productive networks that will change the way you think and do business.
"Success comes from knowing who and how to request things from people within your network. Your ability to do this puts your future in your hands – to raise the roof create lasting profitable relationship that can grow together."
Anthony is an inspiring speaker who delivers professionals, business owners and entrepreneurs his proven 5-step "connection and communications" system that helps them to achieve both their personal and business goals.
Anthony provided facilitated workshops and corporate coaching to empower your business and team to raise the roof!
Learn
● How to identify, target and get next to the top people in your industry
● The critical first step to starting a conversation with the person you most need to meet
● How to instantly transform an introduction into an opportunity
● Why who you know is a thousand times more important than what you know when you're on the path to your dreams
GREATER SUCCESS FOR YOU BUSINESS STARTS HERE
BOOK ANTHONY TODAY
"Skill is fine, and genius is splendid but the right contacts are more valuable than either" Sir Arthur Conan Doyle
Get in touch today to discuss how Anthony can Raise The Roof on your business.